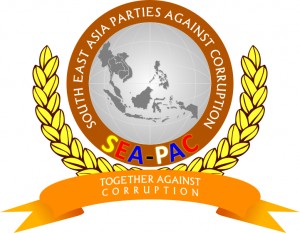 12th MEETING OF PARTIES TO THE MEMORANDUM OF THE UNDERSTANDING
ON PREVENTING AND COMBATING CORRUPTION (SEA-PAC 12th)
14-16 December 2016
Nay Pyi Taw, Myanmar
The 12th Meeting of Parties to the Memorandum of Understanding on Preventing and Combating Corruption (SEA-PAC) will convene on 14-16 December 2016 in Nay Pyi Taw, Myanmar. The provisional program agenda is attached as Annex I.
The Meeting will be held at The Thingaha Hotel, Nay Pyi Taw, Myanmar.
Address: No. 3, Yaza Thingaha Road, Dat Khi Na Thiri Township, Nay Pyi Taw, Myanmar
Tel : 95 (67) 420 724~27, 414 123~28
Fax: 95 (67) 420 728
Email: info@thingahanaypyitaw.com
The Secretariat Room will be located at jade room (in front of meeting room) and will be operational from 13-16 to December 2016.
Further enquiries on the Meeting should be directed to the following officials of the Secretariat:
1. Mr. Ye Htet
Deputy Director
e-mail:
myanmaracc2014@gmail.com
yehtetwunna@gmail.com
2. Ms. Aye Myat Mon
Deputy Director
e-mail:
myanmaracc2014@gmail.com
ammon1976@gmail.com
Documents to be circulated at the 12th SEA-PAC Meeting are requested to submit to the Secretariat before 28 November 2016, via email.

All delegates are requested to complete the registration forms and submit the completed forms via email to the Secretariat by 25 November 2016 or at your earliest convenience.
Meeting documents, IDs and other materials will be provided upon registration.
Delegates are requested to make their own hotel reservation and payment directly with the hotel of their choice. The information for hotel reservation is attached as Annex-II.
The attire for the meeting will be business attire.
The Hotel Zone in Nay Pyi Taw is located about 25km from Nay Pyi Taw International Airport. It takes about 20-25 minutes by car. Myanmar ACC Airport Reception Team will provide assistance on customs, immigration and luggage clearance upon your arrival at Nay Pyi Taw International Airport. The local transportation for Airport-Hotel-Airport will be provided. The delegates are requested to provide the information of their flight detail in advance to Myanmar Airport Reception Team leader U Mg Mg Hla, Director, Office of Myanmar ACC, e-mail: myanmaracc2014@gmail.com, mobile : +95 9 5020545, or U Lin Wai Aung, Deputy Director, e-mail: myanmaracc2014@gmail.com, mobile: +95 9 43185127.
Delegates are advised to apply for an entry visa at the Myanmar Embassy in their respective capitals. Please submit the official invitation letter with your application. For a Visa on Arrival (VoA), please visit www.myanmar-visa .org. Please also send a scanned copy of your passport to the Secretariat myanmaracc2014@gmail.com.
As previous SEA-PAC meeting practice, the host will cover the organizational cost of meeting facilities. Other cost of participation will be borne by the delegates.

The working language of the meeting will be English.

Location and Area: Myanmar is geographically located in South East Asia, sharing borders with the People's Republic of China, Lao PDR and Kingdom of Thailand on the east and the Republic of India and Bangladesh on the west and north-west. The total land area is 676,577 square kilometers. It stretches for 986 kilometers from east to west and 2051 kilometers from north to south, with a coastline of 2,229 kilometers. The current population is 52 million.
About Nay Pyi Taw: Nay Pyi Taw is the administrative capital of the country. Centrally located, it is 391 km from Yangon and 302 km from Mandalay and accessible from all parts of the country. Nay Pyi Taw comprises eight townships namely Zeyar Thiri, Pohbba Thiri, Uttara Thiri, Zabu Thiri, Dekhina Thiri, Pyinmana, Leiway and Tatkone. The Nay Pyi Taw International Airport is about 30-minute drive from the city. Domestic carriers, both public and private, operate daily flights from Yangon to Nay Pyi Taw.
Flight Information: There are regular direct flights to Nay Pyi Taw from Bangkok. For your information, Yangon-Nay Pyi Taw by car can take about 4 ½ – 5 hours. Yangon-Nay Pyi Taw direct flight takes about 35-55 minutes. Please visit https://www.flymna.com/schedules for flight Information.
Weather information: Myanmar has a monsoon climate with three seasons: Cool, Hot and Rainy. The weather during November to February is colder than other two seasons. March to June is hot in most part of the country. During rainy season (July to October) rainfall can be constant for long periods to time. Temperature varies from 38º C to 90º C.
Time: Local time in Myanmar is 6 hours and 30 minutes ahead of GMT.
Currency: The local currency is Kyat. Currency can be changed at the banks, money changers and some hotels. The current exchange rate is approximately
1USD = 1280 kyat. (Subject to change)
Power Outlets: Electrical sockets (outlet) in Myanmar are multi-plug socket available and supply electricity at between 220 and 240 Volts AC.
Other notices: During meetings, please set your mobile phones to silent mode. Please wear your conference badge during meeting related activities. No access will be permitted without badge. Loss and damage of badges must be immediately reported to the Secretariat.