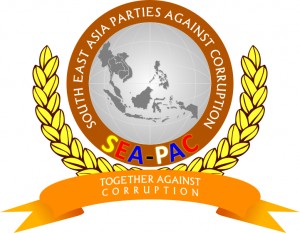 13th MEETING OF PARTIES TO THE MEMORANDUM OF THE UNDERSTANDING
ON PREVENTING AND COMBATING CORRUPTION (SEA-PAC 13th)
27-29 November 2017
Metro Manila, Phillippines

The 13th Meeting of Parties to the Memorandum of Understanding on Preventing and Combating Corruption (SEA-PAC) will convene on 27-29 November 2017 in Metro Manila, Phillippines. The Meeting will be held at EDSA Shangri-La Hotel, Metro Manila, Phillippines.
Mr. JOSE RAFAEL BUTIONG
EDSA Shangri-La Sales Executive
Tel : + 63 2 633 8888 Extension 3118
Mobile : + 6 917 566 7574
Email: rafael.butiong@shangri-la.com
Attorney RHODORA N. FENIX-GALICIA
Acting Director, Community Coordination Bureau; and
Head of Secretariat, Ombudsman Ad Hoc Committee on the 13th SEA-PAC Meeting
Office of the Ombudsman
Agham Road, North Triangle, Diliman, Quezon City, Philippines
Telephone Number: + 63 2 479 7300 local 2131
Email Address: rfgalicia@ombudsman.gov.ph
All delegates are requested to complete the registration forms and submit the completed forms via email to the Secretariat by 16 October 2017 or at your earliest convenience. Meeting documents, IDs and othermaterials will be provided upon registration.
For purposes of time management and security, it is highly encouraged for the delegates to be billeted at the EDSA Shangri-La Hotel, the same hotel where the meeting will be held.
The hotel offers the following daily room rates which are quoted in Philippine pesos (1 USD=51 PhP per September 2017 Average Exchange Rate), and are inclusive of 10% service charge and the prevailing government taxes, currently 12% VAT and 0.82% local tax. Rates are inclusive of buffet breakfast at the HEAT and unlimited complimentary in-room broadband and wireless internet access in all room types. The preferred room can be indicated in the registration form.
Room reservation may be directed to the contact person below. Please particularly note that you are a SEA-PAC delegate to avail of the rate quoted above.
Mr. JOSE RAFAEL BUTIONG
EDSA Shangri-La Sales Executive
Telephone: + 63 2 633 8888 Extension 3118
Mobile: + 6 917 566 7574
E-mail: rafael.butiong@shangri-la.com
Standard check-in time is 2:00 p.m. and latest check-out time is at 12:00 noon. Those who are arriving earlier or departing later may be asked to shoulder the additional costs of accommodation since arrangements for early check-in or late check-out cannot be guaranteed.
Should a guest with a guaranteed reservation not arrive on the scheduled date of arrival, a one night room charge will be levied as no-show charge. Space for subsequent nights will be released for resale.
EDSA Shangri-La is a luxury 5-star hotel nestled in Mandaluyong City's financial and commercial district. It offers sophisticated rooms (some with views of the city skyline) with free Wi-Fi, flat-screen TVs, desks, and tea and coffee-making facilities. Suites and club rooms include access to a lounge with free breakfast and evening cocktails. Some suites also have kitchenettes, separate living spaces and dining tables.
This upscale hotel is 9 km away from the Ninoy Aquino International Airport. Prestigious Shangri-La Plaza mall can be accessed by crossing the link bridge from the hotel and the SM Megamall can be accessed by walking across the main lobby. The hotel also offers some of the city's finest restaurants and bars such as an epicurean adventure with the Heat's interactive open-theatre kitchens, a sample of Cantonese delicacies at Summer Palace, a refined Japanese dining at Senju and a rich representation of Italian cuisine from different regions at Paparazzi. Gluten-free and vegetarian options and special wellness menus by experts are available at CHI, The Spa, the largest and most spacious of its kind in Metro Manila, with 10 treatment suites, a yoga room and mini library. EDSA Shangri-La is the only hotel to have a large free-form pool, an adjacent kiddie pool with waterslide, a fish pond and a gazebo surrounded by lush garden landscape. For more information about the hotel, you may call telephone number +632 633 8888 or visit its website http://www.shangri-la.com/manila/edsashangrila/.
All foreign delegates will be met by a security and protocol officer at the airport and escorted to the hotel. Participants are requested to print the attached badge and wear it at the airport for identification. Please use the same badge as luggage tags for easier identification of airport coordinators who will claim the luggage on behalf of the delegation.
Individual cars will be provided for Principals or Heads of Delegation, to be accompanied by an official from the Office of the Ombudsman and an interpreter, if available. Vans will be provided for other members of the delegation, accompanying persons and luggage. For the departure, vehicles will also be provided on scheduled trips. Delegates are requested to complete their travel details in their registration forms.
A team of security and protocol officers will be assigned for each country delegation. The officers will be responsible for channeling the relevant concerns of the delegation and/or its members to the responsible team or office. The assignment will commence from the arrival to the departure of the delegation, covering the official days of the meeting.
Nationals from countries listed in the attached Guidelines on the Entry of Temporary Visitors to the Philippines are allowed to enter the Philippines without visas for a stay not exceeding thirty (30) days, provided they hold valid tickets for their return journey to port of origin or next port of destination and their passports are valid for a period of at least six (6) months beyond the contemplated period of stay.
Please note that nationals from some countries are required to secure entry visas to the Philippines. Nationals who are subjects of deportation/blacklist orders of the Department and the Bureau of Immigration shall not be admitted to the Philippines. Further inquiries may be addressed to the Visa Division of the Philippine Department of Foreign Affairs (Trunk Line Number +632 556-0000 and ask the operator to connect you to Visa Division) or to any Philippine Embassy or Consulate abroad. You may also visit the Department of Foreign Affairs website at www.dfa.gov.ph.
A. Welcome Dinner
On the night of 27 November, foreign delegates and accompanying persons will be treated to a Welcome Dinner at the Garden Ballroom of the EDSA Shangri-la Hotel.
A welcome program will showcase a cultural dance performance from Bayanihan, the National Dance Company of the Philippines which took its name from an ancient Filipino tradition of working together for a common good.
Free and Easy Activities
Upon the adjournment of the meeting on 28 November, the following are recommended practical and manageable activities to be done and places to be visited. Preference can be signified through the registration form. The host will be covering the entrance fees (if applicable) and transportation of delegates. Protocol and security officers will also accompany the delegation.
Museum Tour
Option 1: The National Museum
About: The National Museum is the premier repository and custodian of the country's heritage. As a trust of the Government, the Museum is an educational, scientific and cultural institution that acquires, documents, preserves, exhibits, and fosters scholarly study and public appreciation of works of art, specimens, and cultural and historical artifacts representative of the unique cultural heritage of the Filipino people and the natural history of the Philippines.
Distance: 12.1 km from EDSA Shangri-La Hotel
Website: www.nationalmuseum.gov.ph
Option 2: Ayala Museum
About: Whenever visiting the country, the museum is one of the best places to see amazing contemporary art and the Philippines' inspiring history. Among the museum's highlights is its collection of archeological artifacts, notably the Gold of Ancestors: Pre- Colonial Treasures in the Philippines, an impressive selection of trade ceramics from Southeast Asia and China. The museum also has on exhibition, The Philippine Diorama Experience, visually narrating the many milestones of Philippine history through 60 handcrafted dioramas.
Distance: 6.1 km from EDSA Shangri-La Hotel
Website: www.ayalamuseum.org
Relaxation at ACE Water Spa
About: It is the Philippines' favorite destination when it comes to indoor water pools and relaxation. Their unique Hydrotherapy massage uses ultrasonic jet systems that massage specific areas of the body. The "do-it-yourself" massage systems give the freedom  to choose which water equipment to use for parts of the body that needs more attention. It offers full 4 hours of Hydrotherapy and all of their facilities, such as the spacious lap pool, hot pool, and herbal pools.
Attire: Fitted swimwear (preferably spandex material) should be worn. Strictly fitted bathing suits for ladies, trunks or cycling shorts for male. Swimming board shorts or beachshorts will not be allowed due to tendency to inflate from strong water and air pressure. There is an option to rent or purchase quality swimwear  at very reasonable prices at Ace Swim Shop.
Distance: 2.3 km from EDSA Shangri-La Hotel
Website: www.acewaterspa.com.ph
Shopping at nearby Centers
Option1: Greenhills Shopping Center (GSC)
About:  GSC  is  a  16-hectare  shopping  center  that  has become  the  bargain-hunters'  mecca  in  the  metropolis. It offers a variety of value shopping, dining and entertainment choices. It houses more than 1,000 stores and has more  than 2,000 tenants who are currently doing business at the entire shopping center. It is Philippines' pioneer in "tiangges" (flea markets) and night markets which are famous worldwide for its wide selection of quality yet affordable goods such as clothes, shoes, bags, accessories, toys, jewelry, cellphones, furniture and a lot more.
Distance: 3.8 km from EDSA Shangri-La Hotel
Website: www.greenhills.com.ph
Option 2: SM Mega Mall
About: The mall is one of the SM Supermalls, the country's largest shopping center operator, which provides shopping, dining and entertainment options to millions of shoppers daily in over 50 malls in the Philippines and 6 in China. It houses the best local and global retailers and provides affordable luxury shopping.
Distance: 1.1 km from EDSA Shangri-La Hotel
Website: www.sm-megamall.com
Option 3: Shangri-La Plaza
About: The  Plaza  is  a  large,  upscale-luxury shopping mall and contains more than 300 shops and restaurants. It is adjacent and directly connected to other EDSA Shangri-La Hotel and near other shopping centers such as SM Megamall.
Distance: 800 m via the link bridge from the hotel
Website: www.shangrila-plaza.com
Staying at the Hotel
Please also inform your protocol officer for this option
B. Invitational Activity (29 November 2017)
The United Nations Office on Drugs and Crime (UNODC), in partnership with the Office of the Ombudsman is organizing a one-day regional workshop on 29 November 2017 to discuss the contribution that Anti-Corruption agencies in Southeast Asia can make to the implementation of Articles 10 and 13 of the United Nations Convention Against Corruption (UNCAC). NGOs and representatives of the civil society and business sector will be invited to participate and contribute to identifying ways to develop or enhance multi-stakeholders approaches for enhancing transparency and accountability of public services, improving access to information and participation of society in the fight against corruption.
It is highly encouraged that delegates to the SEA-PAC Meeting register to this activity as the proceedings of the workshop are expected to constitute a set of guiding principles and ideas to be implemented in the countries of the region under the leadership of the SEA-PAC members.
Registration to the workshop can be signified in the same Registration Form to the SEA-PAC Meeting.